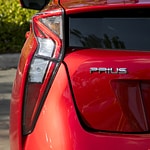 Aside from the Toyota Prius being an economical vehicle to drive, it also offers several utility and convenience features. You'll notice exceptional gas mileage whether you're driving on a city street or a long highway. An abundance of space is available in the rear of the car for hauling everything from groceries to luggage.
The center console is spacious for holding the maps that you might need or the small components that tend to get lost in the glove box. With the console right between the driver's seat and passenger's seat, you'll have easy access when you need something right away.
Another feature that you can consult with Wellesley Toyota about is the exterior color that you want as there are several to choose from including blue and red. Technology features for added convenience and utility include more maps with the navigation system and messaging options that allow you to keep your hands on the steering wheel instead of picking up your phone.