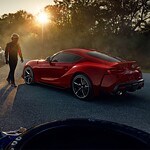 The Toyota Supra is here again with all new performance features and an extremely powerful engine. The GR Supra is a dream to drive with fast acceleration, robust transmission, and better fuel economy than many in the same sports coupe class. The braking and handling is balanced, and you can select different driving modes depending on how you want to drive. Whether you are on the highway or headed to the track, the GR Supra was designed to perform. With a BMW engine, the GR Supra is also one of the most unique sports cars on the road.
BMW partnered up with Toyota to create the 3.0-liter inline supercharged six-cylinder engine in the GR Supra. It's a beast that delivers 335 horsepower and 365 lb-ft of torque. The roar of the engine can be felt as soon as you rev, and it goes from 0 to 60 in 4.1 seconds. The engine is married to an eight-speed transmission that has well-timed shifting.
The GR Supra is designed to take you where you want to go fast. Ready to see the new GR Supra in person? You can head to Wellesley Toyota to get more information and take a test drive.