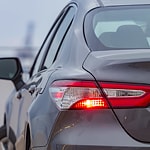 Come experience the new Toyota Camry by coming to talk with us at Wellesley Toyota. This vehicle is made to last you and your loved ones for years to come, and the exterior is made to keep you safe. It offers a sleek and classic look that is sure to stay in style as well.
Along the hood and sides of the Toyota Camry are obvious line details that give this sedan some personality. The LED headlights at the corner of the vehicle add to the excitement as they have two rows of lighting in them for a sporty look.
The grille which the lights angle down towards is made from chrome, and you can add mesh to give even more of a sporty detail. In the back, you will find taillights that are made from LED and even a dual exhaust pipe if you opt for it that is made from chrome.