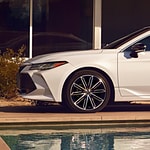 When we want a sedan that looks great, handles expertly and saves gas, we settle into the driver's seat of the Toyota Avalon. It's full-sized body has plenty passenger room, but its performance features combine extreme power and efficiency with elegance.
The Ultimate in Valve Timing
The Toyota Avalon has impressive fuel efficiency, as much as 32 mpg highway. How? Its 3.5-liter V6 engine churns out 305 horsepower and 267 lb.-ft. of torque. The enhancement of Variable Valve Timing increases maximum engine speed. it also enhances exhaust gas recirculation, minimizing the total fuel needed to power the engine. This raises mpg while expending less fuel.
The Utmost in All-Wheel Drive
The Toyota Avalon features all-wheel drive that it can adjust for maximum efficiency. As needed, the Toyota Avalon sends more power and torque to the rear wheels, augmenting power of acceleration and evening out distribution of payload weight. The same feature also results in optimal traction, grip, stability and handling.